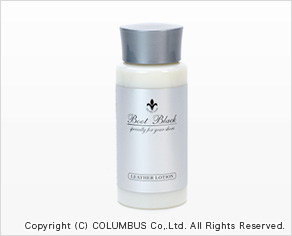 Low-scented, fragrance-free cleaning lotion for leather shoes.
【Product Details】
●Provides a nutrition effect to leather items while removing dirt and make a foundation that makeup sits well.
●Remove stains, dirt and old polish residue from the surface of leather items.
●Formulated with an antibacterial agent.
■What is Leather Cleaner?
Leather Lotion removes stains, dirt and old creams residue. The knack of cleaning shoes is to do as well as cleansing before women`s makeup. Please use the lotion once in three times when applying shoe cream. The finishing process of cream becomes better as well as preparing makeup base.
【How to use】
1) Use a brush to get rid of dirt.
2) Use the Leather Lotion to remove stains, dirt and old polish residue from the surface of the leather.
3) Apply a Shoe Cream with a cloth.
4) Brush the shoe after applying the cream to disperse it evenly around the entire shoes.
5) Buff the shoe with a Glove Shine that provides a great shine.
【Attention】
●Keep out of reach of children.
●Some materials get stains easily. Apply on an inconspicuous area first.
●Not available for special leathers such as Napped leather, Tanned leather and Reptiles leather.
●Do not store in a high temperature and direct sunlight.