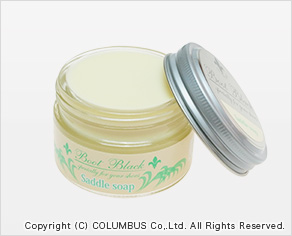 A special soap for cleansing leather shoes
【Product Details】
●Solid soap-type cleaner with foam that removes dirt and grime.
●Jojoba oil is contained in the product, which cleanses and moisturizes the leather, keeping its texture moist.
●This product is suitable for work boots, outdoor shoes, and other shoes that get dirty easily.
●To remove stains, apply saddle soap to a wet sponge and lather up.
●If the foam gets dirty, wipe it off immediately and polish the leather with a cloth when the surface is dry.
●Jojoba oil helps to moisturize the leather.
【How to use】*For oiled leather
1) Moisten the entire shoe with a sponge moistened with water.
2) Take saddle soap on the sponge and shampoo to remove dirt.
3) Wipe off the dirt and foam with a dry cloth.
4)Take mink oil on a cloth and apply it to the entire shoe.
5)Polish the shoes with a dry cloth.
【Attention】
●Some leathers may stain or fade, so please test in an inconspicuous area before use.
●Do not use on napped leather such as suede, nubuck, tanned leather, snakeskin, enamel, or other special leather or fabric products.
●Always keep the cap tightly closed after use.
●Keep out of reach of children. If swallowed, give first aid treatment such as drinking water and consult a doctor.
●To prevent accidental ingestion by people with dementia, etc., please be careful where you place the product.