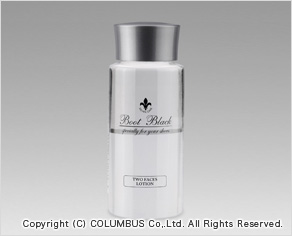 Double-layer cleaning lotion, effective for removing both water-based stains and oil-based stains.
【Product Details】
●It is a liquid shoe cleaner that removes dirt by the action of solvents. It dissolves dirt and removes it by capturing it.
●The ingredients for removing oil-based stains and those for removing water-based stains are separated.
●It is used when the two layers are mixed by gently shaking the bottle.
●The reduced amount of surfactant allows only the solvent ingredients to be applied directly to the leather, increasing the cleaning effect. In addition, the texture of the lotion is smooth and silky, so you can enjoy the natural texture of leather.
■What is Boot Black Silver Line series?
Boot Black Silver Line is a high grade shoe care brand of COLUMBUS which is easy to care shoes for general and female users.
【How to use】
1) Before use, gently shake by hand to mix the two layers of liquid to a cloudy white state.
2) Put some lotion on a soft cloth and clean your leather shoes. Remove dirt from leather shoes.
【Attention】
●Some leathers may stain or fade, so please test in an inconspicuous area before use.
●Not available for special leathers (aniline leather, tanned leather) and napped leathers (suede, nubuck).
●Keep out of reach of children. If swallowed, give first aid treatment such as drinking water and consult a doctor.
●To prevent accidental ingestion by people with dementia, etc., please be careful where you place the product.