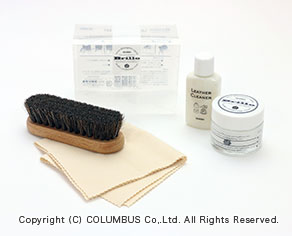 A set of conditioning creams that can be used on any color of leather.
【Product Details】
●Natural beeswax and sunflower wax which are able to make hard and thin layer onthe surface of leather, which provides persistently shine and smoothness.
●Jojoba oil which has excellent moisture to the leather reduces friction between leathers and provide softness to the leather too.
●Soft gel type cream which is easy to spread thinly and evenly on the surface of leather.
●Solvent is not contained.
●Neutral type cream which is gentle on leather.
●Available for tanned leather.
●Odor is citrus green which is elegant and fresh.
【Contents of the set】
①Brillo Leather Conditioning Cream (40g) Neutral x 1
②Leather Cleaner x 1
③Brush (horse hair) x 1
④Cloth x 1
【How to use】
①Use a horsehair brush to remove dust from the shoes.
②Take some leather cleaner on a cloth and remove old shoe cream and dirt.
③Apply a small amount of Brio Leather Conditioning Cream to the cloth and
spread it thinly over the entire shoe.
*Apply the cream on an inconspicuous area before applying it to the entire surface.
④Please brush with a horse hair brush and polish well with a cloth.
【Attention】
●Keep out of the reach of children.
●Some materials may stain or fade. Please test on an inconspicuous area before use.
●If swallowed, give first aid treatment such as drinking water and consult a doctor.
●Take care with a storage place to avoid accidental ingeston.