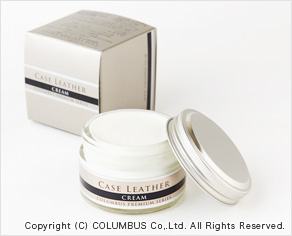 Cream for natural leather (Tanned leather)
【Product Details】
●Cream contains solventless and natural wax which provides flexibility.
●Natural waxes (vegetable candelilla wax and animal beeswax) provides protection.
●UV cut function prevents the sudden color change of leather due to the sunlight.
●Contains antifungal agent to prevent the growth of mould during storage.
●Even used repeatedly, it does not spoil the texture of case leather.
■Feature of case leather
Case leather is a leather made from vegetable tannins, is commercialized in a state c
close to a bare finish in order provide texture. Therefore, it is delicate since it is easily
absorbs water and oil.
■Solventless and natural wax cream
Case leather is called "Eco Leather" or "Vegetable Leather" in different way. The main environmental material of leather items. Therefore, this cream does not contain solvent for case leather. Natural vegetable and animal waxes are contained to protect case leather gently.
■UV Cut Function
Due to this function, available to enjoy aging.
【Attention】
●Keep out of reach of children.
●In case if children swallowed it accidentally, give them first aid and seek medical advice.
●Do not store in high temperature and direct sunlight.