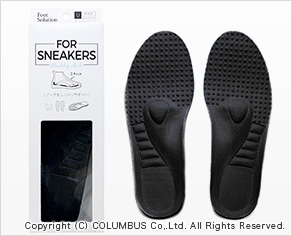 Insole for sneakers, works for three arches (side arch, inside vertical arch, outside vertical arch) which prevents a burden on your foot and back.
【Product Details】
SIDE ARCH SUPPORT
Holds the arch which runs inside of the base of toe.
VERTICAL ARCH SUPPORT
Holds both inside and outside of soles which runs vertical.
CUP SHAPE
The cup shape envelops your heel and stabilizes your foot.
【Supporting arch prevents your tired foot】
An insole which supports your arch and heel. It also contains a function to provide comfortable walking. The dot process on the toe part is one of the feature of the HEALTY ARCH. The grumbling feeling stimulates your tired foot and provides comfortableness.
【Size / US size】
Men`s S size (6, 6½), M size (7, 7½), L size (8, 8½)
Women`s S size (5,5½), M size (6, 6½), L size (7, 7½)
【How to use】
●Please choose the size which adjusts on your shoes.
●Face the brown side above and put it inside of shoes.
●Wear shoes alternately that the effect sustains well.
【Attention】
●The black color of the insole may transfer on white socks or light colored socks by sweating.
●Insoles are made in typical shape. The width of some shoes may not fit. Please cut the insole and adjust to your shoe size.
●Do not bend the insole.
●If you feel pain while using the insole, please stop to use it immediately.
●Unwashable