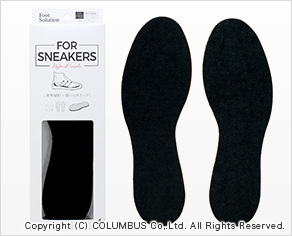 Sports insole which prevents foot moving forward and provides fitness
【Product Details】
Low rebounding PORON®
Holds your foot and provides comfortableness.
High rebounding PORON®
Assits walking and prevents a burden on your foot.
●※Microcell polymer sheet "PORON(R)" holds your foot and provides comfortableness with low repulsion.
●High shock absorptive and durability are contained
●Antibacterial deodorizing effect and anti slipping process are contained. It also absorbs sweat and prevents humidity.
【A great insole which contains many function】
The low and high rebounding function are integrated. It seems it contains completely different material but works for different movement "Stepping" and "Kicking" which helps "Walking". Antibacterial process + Japanese paper on the surface and back absorbs sweat. It provides comfortableness even walking a lot.
【How to use】
●Please choose the size which adjusts on your shoes.
●Face the cloth part above and put it inside of shoes.
●Wear shoes alternately that the effect sustains well.
【Attention】
●Insoles are made in typical shape. The width of some shoes may not fit. Please cut the insole and adjust to your shoe size.
●Do not bend the insole.
●If you feel pain while using the insole, please stop to use it immediately.
●Unwashable