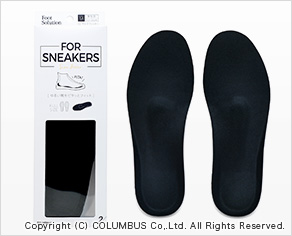 Sneaker insole designed for running lightly which prevents wobbling.
It is effective while playing sports.
【Product Details】
High cushioning insole holds your foot gently and prevents tiredness.
Heel cushion
Shock absorbtion pad prevents a burden on heel.
Hard support cup
Holds your foot on the right position and provides stability.
↓
Available to keep your foot position which keeps balance and dispereses the power on foot.
●Materials which include breathable and hygroscopicity have antibacterial deodorizing effect.
●High durable material is used.
【Support your foot firmly】
The first hard type insole from Columbus which supports foot firmly while walking or playing sports. This three dimentional insole disperse the power on foot. Not only supporting your foot, but also provides fitting and cushioning which prevents tiredness.
【How to use】
●Please use the sizechart for cutting the insole as your shoe size.
●Wear shoes alternately that the effect sustains well.
【Attention】
●Insoles are made in typical shape. The width of some shoes may not fit. Please cut the insole and adjust to your shoe size.
●Do not bend the insole.
●If you feel pain while using the insole, please stop to use it immediately.
●Unwashable