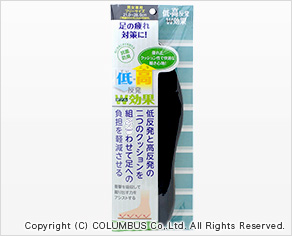 An insole that combines two types of cushioning, low and high rebound, to reduce the stress on the foot.
【Product Details】
●The antibacterial pile surface absorbs perspiration quickly.
●The first layer of low rebound cushioning gently envelops the foot.
●The second layer of high rebound cushioning assists the kicking force when walking.
●The third layer of Japanese paper prevents the insole from slipping in the shoe.
■Size
Unisex Freesize(21.0~28.0cm)
【How to use】
●Please trim the insole as same size as your shoes.
●Use the size chart if necessary.
*The size chart is in standard size and shapes.
As every shoe is different in size and shape we recommend the following cuts.
1. The length and width should be cut larger than the size of the shoe to be used.
2 .Please check the size and shape and adjust by cutting little by little.
●Place it in your shoe with the fabric side up.
●Use alternately on two pairs of shoes for a longer lasting effect.
【Attention】
●Insoles are made in typical shape. The width of some shoes may not fit.
●If sands and pebbles get into shoes, it may damage the insole.
●The black colour of the insole surface may stick to white or light-coloured socks due to perspiration.
●Do not bend the insole.
●If you feel pain while using the insole, please stop to use it immediately.
●Unwashable