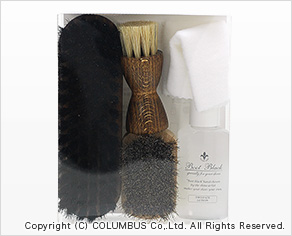 A set of three types of brushes, cleaners, and cloths for shoe care.
【Contents of the set】
●Horsehair brush for dust removal×1
●Pig Hair Brush for Cream Application×1
●Pig Hair Brush for Polishing×1
●Shoe cleaner (30mL to remove dirt from shoes) ×1
●Cloth ×1
【Product Details】
●The long, soft bristles of the horsehair brush effectively remove dust from shoes. Compact size makes it easy to hold in your hand.
●The hog-bristle brush is for applying cream to the shoe, allowing you to apply the cream evenly to the entire shoe.
The larger size "Pig Hair Brush" is for polishing after applying cream. The stiff hog bristles blend the cream evenly and create a beautiful shine. This brush is available in a larger size so that you can experience the joy of increased shine.
●The shoe cleaner can be used for both water and oil stains.
●The cloth is made of 100% soft cotton and can be used for a variety of purposes.
【How to use】
1. Use a dusting brush to remove dust from the entire shoe.
2.Take a small amount of shoe cleaner on a cloth and gently wipe the entire shoe to remove dirt and old cream.
3.Use the cream application brush to apply a thin layer of shoe cream to the entire shoe.
4.Brush the entire shoe with a polishing brush to blend the cream into the leather. At this stage, a beautiful shine will be created.
5.Wipe dry with a clean piece of cloth to complete the process.
【Attention】
●Please read the instructions on the product itself carefully and test the shoe cleaner on an inconspicuous area before use. Not for use on napped leather such as suede or nubuck, snakes, crocodiles, or other special leathers or fabrics.
●Use the napped side of the cloth.
●Do not use a brush that has been used on dark-colored cream-applied shoes on light-colored shoes.