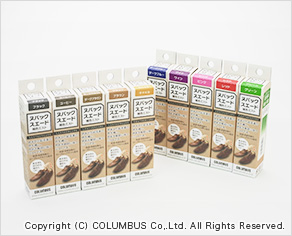 Coloring mist which provides color on faded napped leathers and keeps color clear
【Product Details】
●Coloring and nutrition mist for napped leathers.
●Effective to keep the color of shoes clear.
●Available for items made of napped leathers.
●Color:12colors ①Black ②Brown ③Dark Brown ④Coffee ⑤Red ⑥Wine ⑦Dark Blue ⑧Camel ⑨Green ⑩Pink ⑪Beige ⑫Gray
【Features】
●Mist type spray which the nutrition penetrates on the fibers of napped leather.
●Contains an effective of color fading prevention which keeps shoes clean.
●Resins are not used which does not cause an unpleasant humidity.
●Available to provide the color evenly on shoes.
●The rosehip oil contains moisturizing effect which keeps leather soft and moist.
【How to use】
①Put a shoetree or newspaper inside of shoes. Shake the container well before use.
②Rid off dust and dirt from napped leather items. Keep 20cm distance from the shoes and spray evenly.
③Brush and trim the ends after drying.
④Finally, use a waterproof spray which protects leathers from water and dirt.
【Attention】
●Some mateirals get stains easily. Apply on an inconspicuous place first.
●Please do not spray on leather soles, tassels and leather part of combination shoes.
●Wipe around the button with a cloth and close the cap after use.
●If children swallowed accidentally, give first aid and seek medical advice.
●If the liquid is spilled across the floor, it may cause slip.
●Keep out of reach of children.
●Keep away from high temperature and direct sunlight.