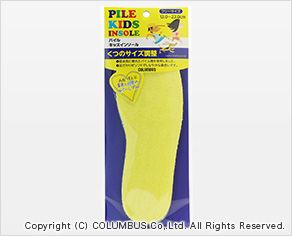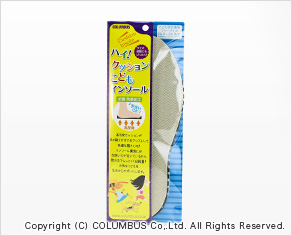 【Product Details of PILE KIDS INSOLE】
Insole which is suitable for adjusting kids size shoes
●Pile fabric is used which provides an excellent water absorption.
●Soft and elastic insole.
●Size:Freesize
【Product Details of HIGH! CUSHION INSOLE】
Insole which supports energetic kids from foot
●Highly repulsion assists the action of pawing the ground.
●Ultralight square punching process prevents humidity.
●Antibacterial deodorizing process prevents smell.
●Size:Freesize
●Insole which contains two excellent layer.
①First layer
The polyester fabric is used which the antibacterial deodorizing process keeps smoothness and provides durability. It also prevents the growth of bacteria and bad smell.
②Second layer
The EVA cushion is used which contains an excellent elastic and durability. The square keeps punching process which provides a cushion function and comfortableness while walking a long time.
【How to use】
●Please cut the insole as same size as shoes.
●Use the size chart if necessary.
●Face the cloth part above and put it inside of shoes.
●Wear shoes alternately which the effect sustains well.
【Attention】
●Please use for slightly large shoes.
●Insoles are made in typical shape. The width of some shoes may not fit.
●If sands and pebbles get into shoes, it may damage the insole.
●Do not bend the insole.
●If you feel pain while using the insole, please stop to use it immediately.
●Unwashable