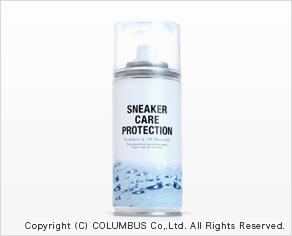 A sneaker spray which protects materials from water, dirt, dust and oils.
【Product details】
●Coating fluororesin water and oil repellant on the leather fibers protect materials
water, dirt, dust and oils.
●Does not affect flexibility and breathability of leather.
●Available for sneakers made of smooth leathers, napped leathers (suede,nubuck),
canvas and fabrics.
【How to use】
●Shake the container well before spraying.
●Remove stains and dirt from shoes.
Then, keep 20~25cm distance and spray lightly on inside of shoes.
●Please spray about 5 seconds/shoe.
【Attention】
●The color on the surface of leather may change dark after spraying,
but it will return to the original color in 5 to 10 minutes.
●Please dry more than 15 minutes after spraying for materials made of
tanned and napped leathers etc. which have good permeability.
●Buff the smooth leathers with a soft cloth after use.
No need to buff for textiles such as canvas or fabric.
●Brush napped leathers lightly.
●Please dry wet shoes before spraying.
●Some mateirals get stains easily. Apply to an inconspicuous place first.
●It may be difficult to spray easily under a low temperature.
Please leave it indoor after a while before using.
●Please use it under an airy place.
●Keep out of reach of children.
●In case if children swallowed it accidentally, give them first aid and
seek medical advice.
●Keep away from high temperature and direct sunlight.