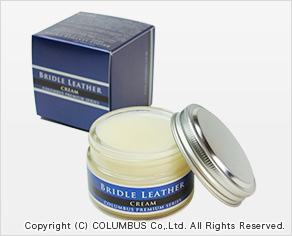 A cream made mainly from beeswax and jojoba oil that preserves the texture of bridle leather.
【Product Details】
●This is a special cream for bridle leather. It can be used for small leather goods such as business card cases, wallets, and bags.
●The main ingredients, beeswax and jojoba oil, add luster and moisture to leather, replenish oil, prevent drying, and replenish wax.
●When applied, it forms a transparent wax film. It does not turn white.
●The color is neutral, so it can be used on any color leather.
●Comes with a cloth for application.
【How to use】
●Take a small amount of the cream on a cloth and spread it evenly over the leather.
●Leave it for some time (20-30 minutes) to soak in the leather, and then lightly polish it with a dry cloth.
【Attention】
●Since it is an oil replenishing cream, the result may be slightly darker than the original color.
●Do not use for any other purpose.
●If too much is used, it may leave a sticky residue, so use a small amount and spread it well.
●Always cap after use.
●Keep away from high temperature and direct sunlight, and keep out of the reach of children.
●Do store the product horizontally, as the oil components may seep out.
●If swallowed, give first aid treatment such as drinking water and consult a doctor.
●Take care with a storage place to avoid accidental ingeston.