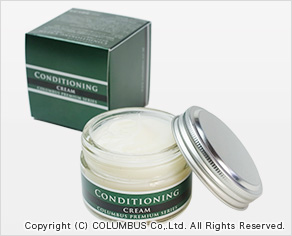 Mild acidic and solvent-free type cream for delicate leather.
【Product Details】
●Special cream for delicate leather. It can be used for small leather goods such as business card cases, wallets, and bags.
●This is a mild acidic cream that is gentle to leather. No organic solvents are used.
●Squalane oil keeps the leather moisturized. It also contains vegetable carnava wax, which forms a thin wax film on the leather surface to protect it.
●It contains cornstarch to give the leather surface a silky feel, green tea extract to eliminate odors, and an anti-mold agent.
●The color is neutral, so it can be used on any color leather.
●Comes with a cloth for application.
【How to use】
●Take a small amount of the cream on a cloth and spread it evenly over the leather.
●When the cream is dry, polish it with a soft cloth.
【Attention】
●Cannot be used on special leathers such as enamel, reptiles, or napped leathers such as suede or nubuck.
●Some materials may stain or fade. Please test on an inconspicuous area before use.
●Always cap after use.
●Keep away from high temperature and direct sunlight, and keep out of the reach of children.
●Do store the product horizontally, as the oil components may seep out.
●If swallowed, give first aid treatment such as drinking water and consult a doctor.
●Take care with a storage place to avoid accidental ingeston.