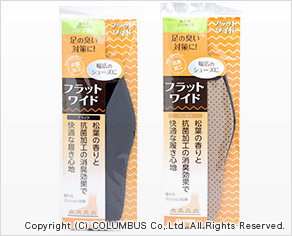 Insoles for wide width shoes.
【Product Details】
●This insole is designed for shoes with a wide width.
●The EVA material used is highly durable and provides a long-lasting cushioning effect.
●The antibacterial surface fabric prevents the growth of bacteria and the formation of unpleasant odors in the shoes.
●It has small holes to increase air permeability.
●You can enjoy the fragrance of the essence of pine needles.
【How to use】
●It is a free size, so please trim it to your desired size and use it. The required size chart is printed on the backing paper.
●The size chart shows the standard size and shape.
The size and shape of the shoe will vary depending on the shoe, so we recommend the following trimming method.
1.At the beginning, trim the length and width larger than the size of the shoes you will use.
2.Make adjustments by trimming little by little while checking the size and shape.
●There are left and right sides to this insole. Please make sure and put them in your shoes.
●Use alternately on two pairs of shoes for a longer lasting effect.
【Attention】
●Insoles are made in typical shape. The width of some shoes may not fit.
●If pebbles or sand get into the shoe, they can damage the insole.
●The colour of the insole surface may stick to white or light-coloured socks due to perspiration.
●Please do not bend the insole.
●If you feel pain while using the insole, please stop to use it immediately.
●Not washable.