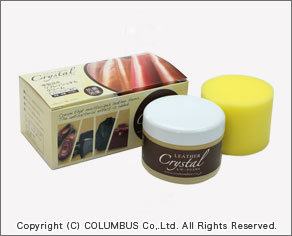 A vegetable-based leather cream that nourishes oil-finished leather and Leather Crystal + Antibacterial
【Product Details】
●A top-grade moisturizing oil-based cream containing Jojoba wax, which blends well with leather, highly refined wool grease, mineral oil, and various natural waxes.
●It is a vegetable wax made from the seed oil of the boxwood family, and is used to soften and moisturize leather, prevent deterioration, and refresh it.
●A blend of high-purity waxes, such as wool grease (lanolin) refined from sheep's wool, is used to gently protect leather and maintain its natural soft luster.
●Mineral oil adds new oil to leather products and keeps the leather itself in good condition.
●This cream is easy to use because it spreads easily and is not sticky. After applying the cream to the leather, spread it as thinly as possible and polish it lightly to make it shine.
●Since it is colorless, it can be used on any color leather.
●On highly absorbent leathers, the gloss may not last, but the refreshing effect can be sustained.
●This product contains antibacterial agents that inhibit the growth of bacteria and keep leather products clean. It is not effective against all types of bacteria.
【How to use】
●Remove the inner cover of the Leather Crystal and apply a small amount of the cream to the sponge (the side without the cloth) and spread it evenly over the leather, making sure not to leave any streaks.
●When using on shoes, polish lightly. If you polish too hard, the shine will diminish.
*It can also be used for water-repellent shoes.
●When using on leather wear, bags, sofas, etc., polish well with a soft cloth to prevent dust from sticking.
【Main usage】
●For cleaning leather bags and shoes.
●For cleaning leather wears.
●For cleaning leather sports items and chairs.
【Standard quantity】
●Leather shoes:100/shoes
●Handbag:80/pcs
●Men`s half coat:15pcs
【Attention】
●Keep out of reach of children.
●The cream contains oil that the color may change dark than original color.
●Some mateirals get stains easily. Apply to an inconspicuous place first.
●Not available for special leathers (aniline leather, tanned leather) and napped leathers (suede, nubuck).
●Take care with a storage place.