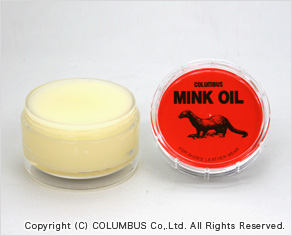 Cream for leathers, which protects from crack and provides nutritional effects on oil finished leather.
【Product Details】
●Applying new oil could keep softness and smooth on leather.
●Mink Oil fits in well to oiled leather.
●Some leather items lose color and get stains easily. Apply to inconspicuous place first.
●Do not use for speccific leathers (Aniline leather, Tanned leather) and napped leather.
(Suede, Nubuck).
■What is Mink Oil?
Mink Oil is an oil made by fat and oil from an animal called "Mink". Mink Oil was made for boot care in the U.S.A.. When American boots was imported in Japan, Mink Oil was also imported at the same time. Nowadays, Mink Oil is used for whole leather items.
■Merit of using Mink Oil
Excellent point of Mink Oil is "the oil supplement". Available to spread evenly with a small amount of Mink Oil.
There are 3 merits to apply Mink Oil to leather items.
①Hard to get dry ②Softness ③High waterproofness
■Demerit of using Mink Oil
①Get mold・・・Get moist easily since it is hard to get dry.
②Get out of shape・・・Softness provides comfort but get out of shape of shoes.
③Get dirty・・・Face become sticky and get dirty easily because of animal oil.
【Other ways to use Mink Oil】
●Provides softness and comfort.
●Provides softness where the foot hits the shoe and protects from shoe sore.
●Revives leather shoes which is completely dried.
【Attention】
●Keep out of reach of children.
●If children swallowed accidentally, give first aid and seek medical advice.
●Keep away from high temperature and direct sunlight.