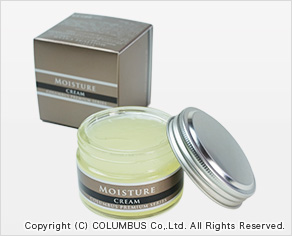 A cream containing jojoba oil (WAX), lanolin, mineral oil, and other ingredients that blend well with and moisturize leather.
【Product Details】
●This is a special cream for smooth leather. It can be used for small leather goods such as business card cases, wallets, and bags.
●It is a cream that gives leather its natural luster. It contains natural waxes such as jojoba oil, lanolin (highly refined wool grease), and mineral oil, which blend well with leather and provide suppleness and moisture.
●The color is neutral, so it can be used on any color leather.
●Comes with a cloth for application.
【How to use】
●Take a small amount of the cream on a cloth and spread it evenly over the leather.
●When the cream is dry, polish it with a soft cloth.
【Attention】
●Cannot be used on special leathers such as enamel, reptiles, or napped leathers such as suede or nubuck.
●Some materials may stain or fade. Please test on an inconspicuous area before use.
●Always cap after use.
●Keep away from high temperature and direct sunlight, and keep out of the reach of children.
●Do store the product horizontally, as the oil components may seep out.
●If swallowed, give first aid treatment such as drinking water and consult a doctor.
●Take care with a storage place to avoid accidental ingeston.