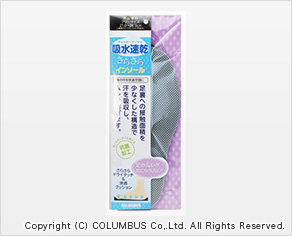 Insole which reduces sweat speedily
【Product Details】
●The surface of the insole has a small contact area which absorbs sweat speedily.
●Keeps inside of shoes dry and provides smoothness.
●Comfortable cushion prevents your tired foot.
■First layer
●Aqua stealth is used which includes a honeycomb structure. It keeps smoothness and absorbs sweat.
●Antibacterial process prevents the growth of bacteria.
■Second layer
●Urethane foam is used which provides an exellent durability.
●High quality cushion and shock absorbtion prevent your tired foot.
●Punching process does not lose breathable.
【How to use】
●This is a freesize insole.
*If you need to adjust the size, use the sizechart which is enclosed.
●The sizechart is made as standard size and shape. Since the size and shape may be different, please follow the method as following.
①Cut the length and wide bigger than your shoe size.
②Cut the insole little by little by confirming the size and shape.
③Face the cloth part above and put it inside of shoes.
④Wear shoes alternately that the effect sustains well.
【Attention】
●Insoles are made in typical shape. The width of some shoes may not fit.
●If sands and pebbles get into shoes, it may damage the insole.
●Do not bend the insole.
●If you feel pain while using the insole, please stop to use it immediately.
●Unwashable